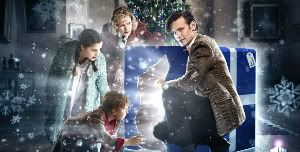 8.9 million watched the Doctor Who Christmas Special, The Doctor, The Widow and The Wardrobe according to unofficial overnight figures.
Doctor Who was the third most watched programme of the day, with the two soaps taking the top two spots with EastEnders winning the day with 9.9 million and Coronation Street just beating Doctor Who with 9.0 million watching.
Against Doctor Who, All Star Family Fortunes managed 6.1 million viewers.
Doctor Who had the highest audience share for the day with 34.2% of the available audience.
source