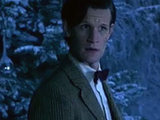 Here we go with another 10, we have ours tomorrow, from someone who was at the press screening!
1. The episode picks up mere moments after the prequel ends...
2. "Did you fall? Where did you fall from?"
3. There's a moment that recalls the 1979 Bond film Moonraker.
4. "I like the bombing - it's exciting!"
5. The Doctor - briefly - has a new catchphrase.
6. "Beware of panthers!"
7. There's a reference to a Peter Davison-era Doctor Who adventure...
8. "That man is quite ridiculous!"
9. We also get a nod to an early Christopher Eccleston episode.
10. "Eyes on the box!"
source