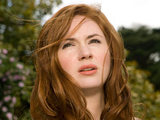 Doctor Who star Karen Gillan has insisted that her exit from the show will have a big impact. The actress, who will depart the sci-fi drama midway through its seventh series, previously declared that she will not return for cameo appearances.
"I wanted to keep it a surprise, for as long as possible," she explained. "[To help] keep the excitement in there." said Karen Gillian -
Then she should have told fans she will be back, instead of letting us speculate she will die, be lost forever in perhaps another dimension a-la-Rose, or something equally bizarre.


source