The Prince of Wales and The Duchess of Cornwall today visited the home of Doctor Who, Roath Lock studios in Cardiff, as part of the 50th Anniversary's celebrations.
A trip to the TARDIS was next on the agenda where the royal couple were introduced to Steven Moffat (Executive Producer and Lead Writer), Jenna Coleman (Clara) and Matt Smith (the Doctor) who gave Prince Charles and The Duchess of Cornwall a quick lesson in how to fly the TARDIS!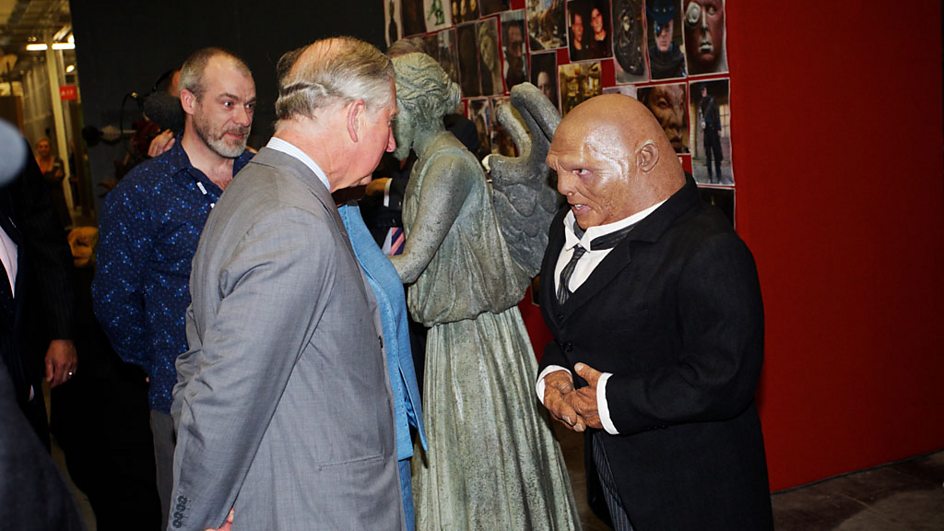 Back on Earth it was time to meet the monsters! Prince Charles and Duchess Camilla were introduced to Strax the Sontaran - in other words, Dan Starkey in full costume and make-up. There were Weeping Angels, Ood and various alien masks on show but a highlight of this section came when Prince Charles and The Duchess of Cornwall met and chatted to a Dalek. The brilliant Nicholas Briggs was initially hidden behind the scenes to ad lib the interview and was then introduced, explaining how he created the distinctive voice patterns of the Time Lord's oldest foes.
The visit lasted approximately an hour and a crowd of well-wishers gathered to wave and cheer Their Royal Highnesses as they left the studios.
Faith Penhale commented, 'It was lovely to welcome Their Royal Highnesses The Prince of Wales and The Duchess of Cornwall to the home of Doctor Who to help celebrate the show's 50th anniversary. Certainly, seeing Prince Charles flying the TARDIS and Their Royal Highnesses chatting to a Dalek are memories to cherish from what looks set to be a very memorable year!'
You can see two galleries of the visit on the BBC's Doctor Who page
here
, and the BBC's news page
here
, where they contain slightly different images, though I have used the best ones here.