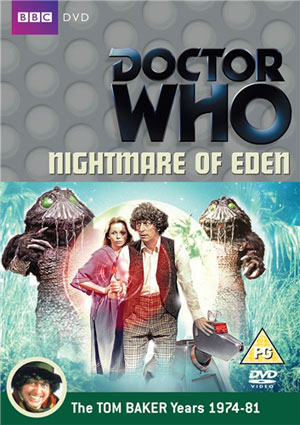 Due for release on 02 April 2012.
Two spacecraft fuse in a hyperspace collision, and with the dimensional instabilities threatening everyone aboard, it's fortunate the Doctor (Tom Baker), Romana (Lalla Ward) and K-9 arrive to help.
But when a crewmember is found clawed by a ferocious creature, it seems there's something even more frightening stalking the corridors.
But what can this have to do with a zoologist, Professor Tryst, his CET projection machine, and a planet called Eden?
Special features…
*Commentary with actors Lalla Ward (Romana) and Peter Craze (Costa), writer Bob Baker, effects designer Colin Mapson and make-up designer Joan Stribling. Moderated by Toby Hadoke
*The Nightmare of Television Centre – A look back at a somewhat troubled production with three of the behind-the-scenes crew who worked on it
*Going Solo – Writer Bob Baker talks about The Nightmare of Eden
*The Doctor's Strange Love with comedian Josie Long and writers Joe Lidster and Simon Guerrier
*Ask Aspel – LallaWard's appearance on the popular BBC children's show
*Radio Times Listings (DVD-ROM)
*Programme Subtitles
*Production Information Subtitles
*Photo Gallery
*Coming Soon Trailer
*Digitally Remastered Picture And Sound Quality.
source