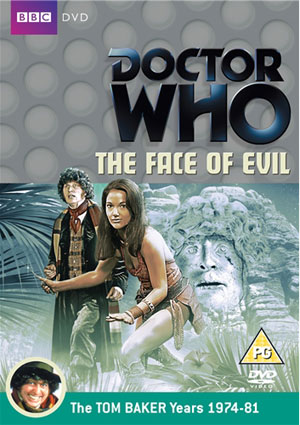 Today,
Doctor Who The Face of Evil DVD
is released, after searching all the UK sellers (yes even the supermarkets this time with no good news) the cheapest is shared by
Zavvi
,
TheHut
, and
Base
, with P&P included, for £12.95. Click on the links to go to the sale, or go to the shops homepage and search. All prices are correct at time of posting, checking in days/weeks/months time may result in cheaper prices!
When the TARDIS arrives on a jungle planet, the Doctor encounters two warring tribes, the Sevateem and the Tesh. The Sevateem worship a god called Xoanon and the Tesh are supposedly keeping Xoanon prisoner, but why do the Sevateem call the Doctor the Evil One? And what are the invisible creatures in the jungle? The Time Lord, with the help of a girl called Leela, is about to find out.
Remember, we do not send you to
our shop
, we are fans of
Doctor Who
and do not believe in making a profit from your fandom, beware of sites that do!